The Warm Up America! foundation, a 501C3 nonprofit, was founded in 1991 by Evie Rosen. It is committed to motivating, training and coordinating volunteers to knit and crochet afghans and clothing for people in need. To this end, the foundation:
Promotes, trains and encourages individual volunteers and groups to adopt the WUA! program as a local activity.

Supports and assists these local volunteers by providing information and instructional materials through its website and newsletters.

Acts as a collection point for sections, oversees assembly into completed blankets and ships items to various charitable organizations and agencies for distribution to the homeless and persons in need.
Message from the President
Dear Fellow Yarn Knitters, Crocheters and Crafters,
As we look forward to the 2023 Holiday Season and the 2024 New Year, we wish to thank you for your continued support of our charitable foundation through your donated articles and monetary contributions. Your generosity means more to us than we can ever truly express.
Please know that your donations are appreciated by so many who have lost so much. Crafting with yarn remains a wonderfully rewarding past-time activity and your finished yarn craft projects have provided much comfort and warmth to countless numbers of people in need. We sincerely thank you for all you have done.
Our goal for 2024 is to encourage our supporters to donate $50 to help us off-set our expenses in our outreach efforts in supporting people in need. To this end, every volunteer who donates $50 or more will receive an exclusive new pattern bundle of yarn projects compliments of our yarn and other supporting member companies. All projects will be truly fun to complete and it is our hope that these will help to stimulate your yarn creativity in the coming months.In closing, please accept our best wishes to you and your family.

Warm Up America! President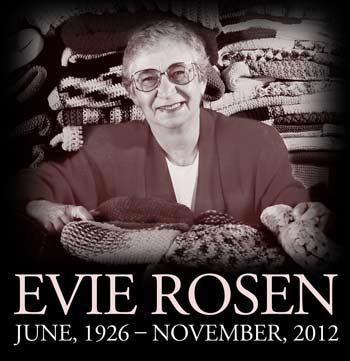 Evie Rosen was recognized nationally for her knitting expertise and for starting the Warm Up America! foundation. She was an amazing teacher who delivered knowledge with wit and humor to the delight of thousands of students.
It was her love of knitting, and two young children at home, that led her to open the Knitting Nook in 1964. While managing her shop, she began teaching nationally and was instrumental in developing the Craft Yarn Council's Certified Instructors Program to grow a future generation of knit and crochet teachers. She designed original patterns that were published in several magazines and authored the popular Teach Yourself to Knit for Leisure Arts, among many other publications.
Her children Mike Rosen and Robbin Stott describe their mother as "a woman with a heart for others." In part, it was her professional training—she graduated from the University of Wisconsin with a degree in Occupational Therapy—but it went deeper. In the early 1990s, when the homeless situation was becoming a national crisis, she came up with the idea for Warm Up America. She said: "I've been knitting afghans and donating them to a local shelter but I can't knit them fast enough to fill the need, but I have an idea. What if we break down the task of making blankets to manageable parts so we can involve lots more people?" That's how the idea for Warm Up America was born.
It wasn't long after that she had people across the country knitting and crocheting 7" by 9" sections, which other volunteers joined together to make afghans for the homeless and others in need. With support from The National NeedleArts Association and Craft Yarn Council, the program became a national success.
Because of her work with Warm Up America!, she was named a "Local Hero" by Time Magazine, with Oprah, Loretta Swit and Vanna White endorsing Warm Up America! She was also recognized for her charitable work by the Craft and Hobby Association and Stitches Magazine awarded her their Knitter of the Year Award.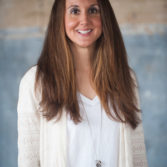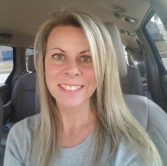 Warm Up America! Coordinator

Director of Administration

Director of Communications and Social Media

Public Relations Coordinator We need your financial support to build our charity network. Help us to ship, deliver and create more warm blankets and clothing for people less fortunate than ourselves.
Volunteers can donate their time to crochet and knit one or more 7" by 9" sections, as well as entire blankets and accessories. Sections are either joined by individuals or groups in a community.
Mail items to:
3740 N Josey Ln Suite #126, Carrollton, TX 75007
There is strength in numbers and one of the ways you can help Warm Up America! is by sharing word of the good things we're doing together.