Help WUA! raise money for Giving Tuesday!

What is Giving Tuesday?
Giving Tuesday is a global day of giving fueled by the power of social media and collaboration. This year it falls on December 3 and we are excited to announce Warm Up America!'s fundraising goal: $5,000! We could not fulfill our mission without your help and we hope you will consider donating to Warm Up America! to help us provide warmth to people in need.
Where does my money go?
One of our largest costs is delivering warm items to those in need. WUA! is blessed to have many wonderful volunteers around the country creating sections as well as completed blankets and other items. The chart below shows what we can provide to people in need based on different donation amounts!

We want to hear from you! 
Fill out our "My Giving Story" survey and tell us how much Warm Up America! means to you! We will read some of these stories on our Facebook live streams throughout the day.
Giving Tuesday Unboxing With WUA! Schedule
We will be going live on our WUA! Facebook page several times next Tuesday to talk about what we do at Warm Up America!, how you can get involved in our Giving Tuesday fundraiser and give updates on our fundraising goal. We will be doing giveaways during each broadcast – click here for giveaway details. See the schedule below!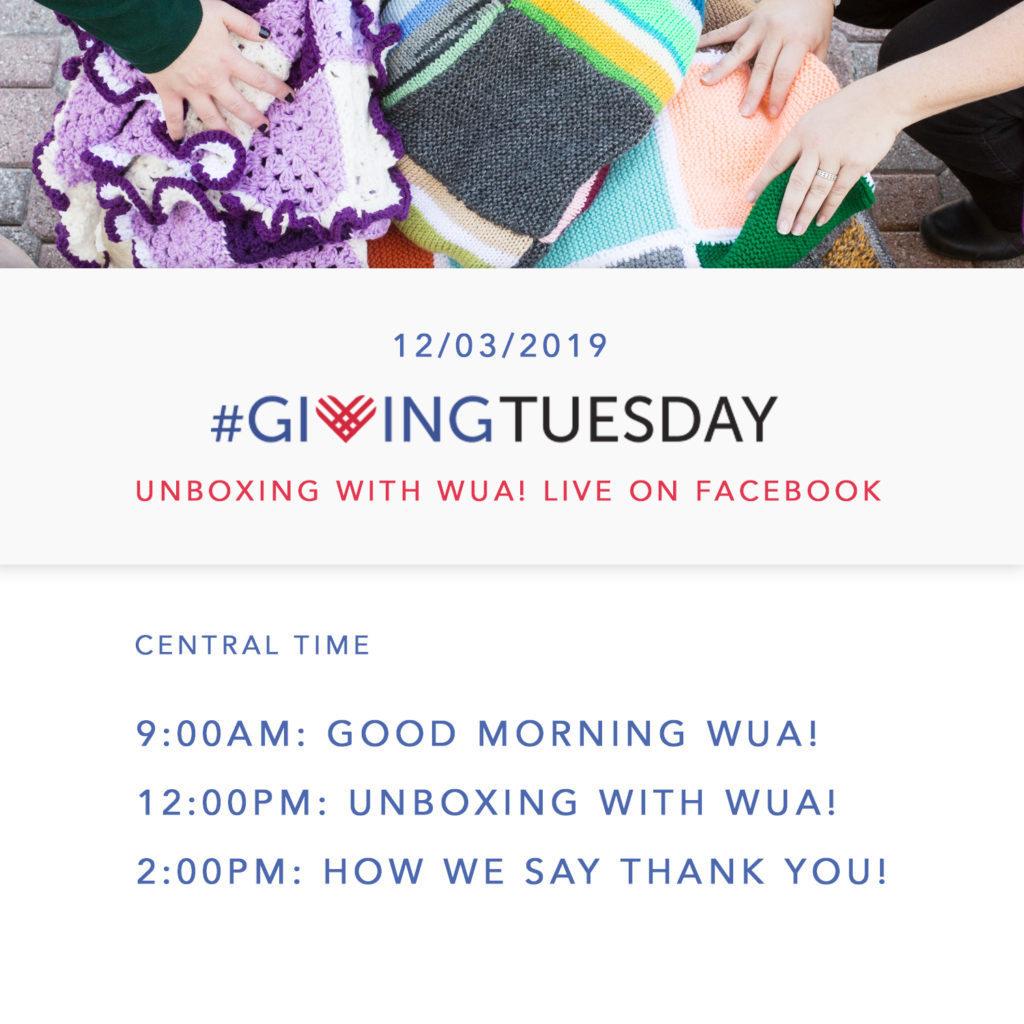 Create your own Facebook fundraiser
Consider creating a Facebook fundraiser to spread the word about WUA! and the programs we promote:
Go to create a new post as normal

Select Support Nonprofit

Choose Warm up America! 

Share your post to your page
Helpful graphics
Here are some helpful graphics you can use to promote WUA! on Giving Tuesday on your social media channels.
Buy a WUA! t-shirt, sweatshirt or tote bag!
For a limited time, buy a Warm Up America! t-shirt, sweatshirt or tote bag. These items will be available for purchase for ONE WEEK only from Tuesday, November 26 through Tuesday, December 3. Each purchase helps support Warm Up America! in our efforts to raise money to continue sending your handmade items to people in need. Purchase your merch here. 
Thank you!
Thank you for all you do for Warm Up America! We can't wait to celebrate Giving Tuesday with you on December 3!