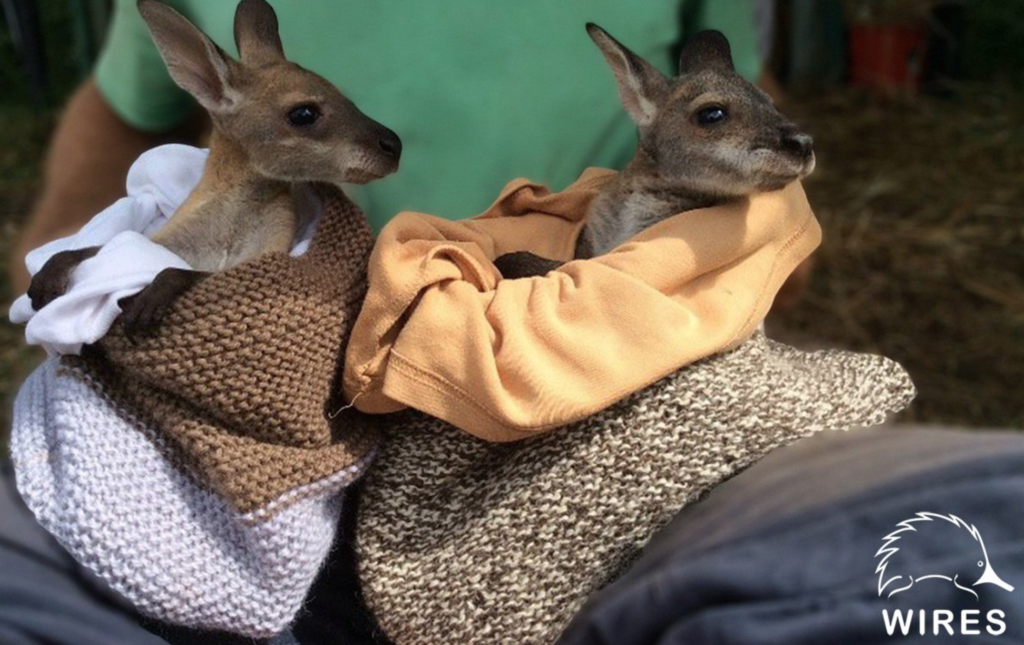 Photo courtesy of NSW Wildlife Information, Rescue and Education Service Inc.

*UPDATE Feb. 1: We are no longer taking donations as items are no longer needed because of the great response of donations.
*UPDATE Jan. 20 from Animal Rescue Craft Guild:
1 – The Current Situation
Australia has received an amazing amount of items from local & international crafters that the majority of the need has been met.
We are continuing reaching out to as many rescues as we can (any and all of them) and helping them as we can, but the answer generally is, "Thanks guys, we're good!" – This is due to the wonderful work to which many of you have contributed.
2 – WHAT WE NEED MOST
We need ongoing monetary donations for FOOD for animals in bush fire regions.
Rescues have enough pouches and medical supplies to treat the surviving animals (and sadly, there are not as many as we hoped). The remaining animals need food because everything else is burnt. Donations can be made here:
https://mkc.org.au/donations/trcqld
3 – Callouts will (probably) be for Australian crafters only
As we form closer relationships with rescues we hear about one-off products that they need in smaller quantities. These can be completed by Australian crafters and they are needed quickly so we do NOT want international folks helping with them. (Sorry, but keep reading!)
4 – THANK YOU WORLD
For our wonderful international supporters – THANK YOU for your support, solidarity, kind words & thoughts, and crafted items so far. We ask you,
PLEASE do not send any more items to Australia
.
From Warm Up America!: We are looking into local animal rescues and sanctuaries that can use these items. We will keep you posted!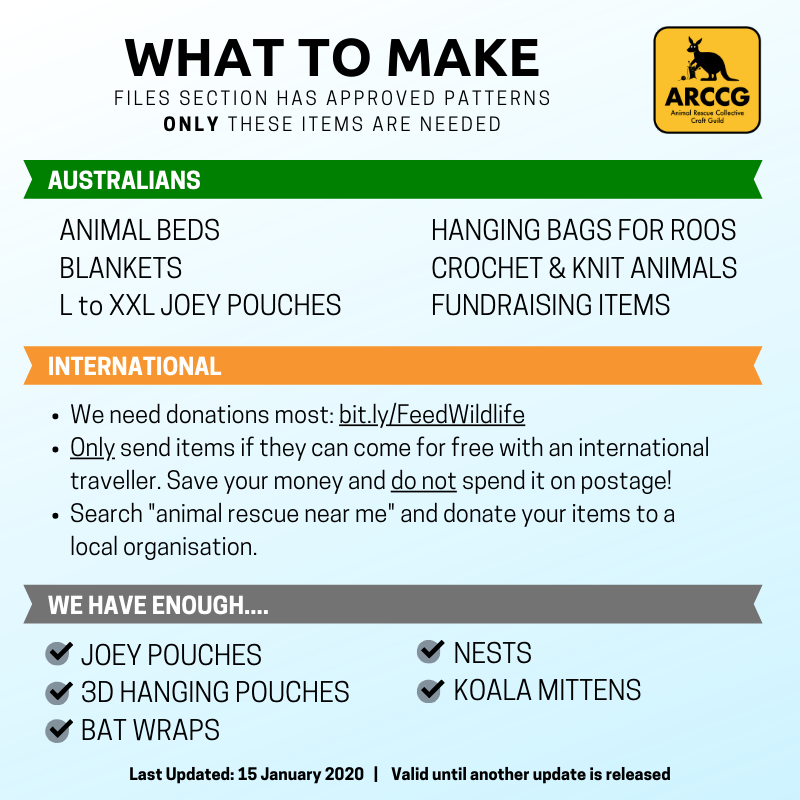 Current instructions:
People who currently have items (whether you are a crafter, hub, subhub, it doesn't matter) – we face a challenge due to shipping to another country in addition to other challenges. We have to smoothly get through customs. If you haven't already been doing so, keep track of everything you are making. Note the materials as well think of an inventory list
Item – Color – size (small/med/lrg) – Material
For those of you good at adapting patterns – take a look at the joey pouch with liner patterns and if you can easily make some with a sturdy shoulder strap please do
Joey pouches – all sizes still needed in abundance (these little critters are frantic so they tear them up fast)
To clarify:
The craft guild is NOT being shut down
We are taking a momentary break

to stocktake

our hubs, distribute items to the long list of rescue requests we have and organise properly what we need.
We are doing this in order to have a

better understanding

of the items and places we are lacking to more effectively make requests to all of

you.
This is

not an attack

on international groups. With any large influx of members/donations, these pauses are vital to ensure that we

do not lose the focus

of emergency volunteer work.

Original post:
Australia is experiencing historic wildfires that have burned through almost 20 million acres and killed close to one billion animals. In the last week, thousands of crafters around the world have united to put their skills to good use by creating items needed by injured wildlife throughout the country. The Animal Rescue Craft Guild has become wildly popular on Facebook, providing patterns, information, pictures, updates and more about what is needed most by animal sanctuaries and those caring for animals affected by the fires. Another group disseminating information on Facebook, specifically for those in the U.S., is the American Rescue Crafters. Both groups have helpful information about what is most needed and how to help. 
Warm Up America! would like to aid this effort by calling on our volunteers nationwide to make knit or crochet joey pouches. Please note that while we are only collecting pouches, you may search for other items needed and send them to a hub in your area. You can either send your pouches to Warm Up America! or to your local hub. For now, this will be an ongoing campaign and there is no deadline. Please send items to 3740 N Josey Lane Suite #152, Carrollton, TX 75007.
Please download and read this FAQ document (FAQs & Answers – Google Docs) to help answer any questions you have. While Warm Up America! is collecting knit and crochet pouches on behalf of these groups to help with relief efforts, we are not experts on this need and will not be able to answer all of your questions. Please direct questions about items needed and materials you can use to either the American Rescue Crafters or Animal Rescue Craft Guild. Make sure to check these pages frequently as information is updated.
Knit & Crochet Pouch Patterns:
Notes & tips:
Do not let your pets near the items you're making for this cause as many of the wildlife receiving these items are very sensitive

Info from Plains – American Rescue Crafters (the hub WUA! is shipping to): Please make sure your items are laundered in perfume free detergents or vinegar and as hair free as possible. No dryer sheets or softeners. Also please please if you can include a list of what you've shipped along with sizes and materials used.

Check out

this blog post from LoveCrafts

for more helpful information and patterns

Check out this Google Drive folder for all of the patterns and info documents released by American Rescue Crafters

Another way to help is to donate money directly to the cause, which will help with shipping items to Australia and various other costs. A GoFundMe has been created by the American Rescue Crafters to help local hubs cover the cost of shipping. You can also donate to the Animal Rescue Craft Guild and the Australian Red Cross to help with relief efforts. For others ways to donate to those affected by the fires, check out this PBS article to learn how to help firefighters, those who've lost their homes and more.